Cloud

Server

Packages

+


public cloud server + private cloud server + cloud load balancing + managed and unmanaged services & solutions
Instant Deployment
Have your cloud environment setup within minutes

Continuity & Scability
Adjust RAM, CPU and Disk instantly! Expanding your existing cloud by simply a click to add more blocks, you can also scale down such resources anytime. With this flexibility you have unlimited possibilities to grow and adapt your cloud as your business evolves

Build, Test & Run
Choose from over a hundred Ready to Use templates, you are not tight to use only one OS, you get supported for most of the popular operating systems such as: CentOS, Debian, Fedora, FreeBSD, Gentoo, RedHat, Ubuntu, Windows
| | | | | | | | |
| --- | --- | --- | --- | --- | --- | --- | --- |
| | Package | Dedicated CPU | RAM | Storage | Bandwidth | Price | |
| | N0 | 0.6 GHz | 512 MB | 10 GB | 100 GB / Month | HK$220+ / Month | |
| | N1 | 1.2 GHz | 1 GB | 30 GB | 500 GB / Month | HK$330+ / Month | |
| | N2 | 2.4 GHz | 2 GB | 50 GB | 1 TB / Month | HK$675+ / Month | |
| | N3 | 3.6 GHz | 3 GB | 70 GB | 1.5 TB / Month | HK$945+ / Month | |
| | N4 | 4.8 GHz | 4 GB | 90 GB | 2 TB / Month | HK$1215+ / Month | |
| | N6 | 7.2 GHz | 6 GB | 130 GB | 3 TB / Month | HK$1755+ / Month | |
| | N8 | 9.6 GHz | 8 GB | 170 GB | 4 TB / Month | HK$2295+ / Month | |
** Please note that the above prices not applicable are to Cloud Instances installing with Windows Standard Server or any fee involved in purchasing proprietary licenses.
Features
High Performance


High IO, Low Latency Storage with RAID10 as standard. Our cloud server builts with resilient high end Dell iSCSI SAN clusters powered storage

Full Server Control


Do you need root or administrator access to your server? Do you demand cPanel, Plesk or DirectAdmin or other panel else? We've got you covered.

Enterprise Grade Security


All cloud servers sit behind a physical enterprise grade physical firewall, with DDoS and IPS filtering enabled. Software firewall is enabled on each cloud for maximizing security by default.

Console/Remote Access


Every cloud server comes with a full GUI Console Access via our client area. Just like if you were sitting in front of the server machine with a serial keyboard and mouse plugged in. Never get locked out of your server again!

Fully Featured Cloud


Fully automated failover and hot migrate tools (Private Cloud Only) ensure maximum uptime and resilience to hardware failures to ensure over 99.95% availability. Instant backup or auto-backup feature with easy to restore process, all just in a click!

Total Automation and Control


Comprehensive Web interface, API and iPhone Apps (and more coming) give you total control. KVM to your server, reboot it, control it... you have total control! Cloud High availability means physical issues won't impact your server.

Managed Support Available


Our managed support service is here 24x7x365 for you. Whether you only need an expert on demand - we have packages for you starting at HK$50 per incident or HK$500 per month you can hire us to manage your server.

Great Connection Speed


We provide upto 30-50ms ping network response time from all over the world, including China. Upto 8 TB of monthly transfer bandwidth. High-End corporate users can also subscribe our Premium China deidicated bandwidth for even better network response.

Monthly Package Available (Test Upon Request)


Test before go further! You got the choice! Just go test with monthly package and continue the service unless you are happy with our services.

Choose, Pay, Run in minutes!


Just in two simple steps only, you can get your website up and running worldwide instantly. We accept world's most famous payment method - Paypal.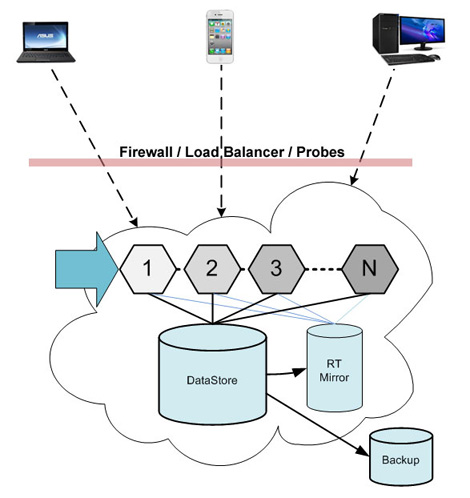 Public Cloud Infrastuture
As a complement to our dedicated server solutions, we also provide the cutting-edge cloud computing solutions for the public, by delivering computing power as a service instead of a product. Server foundation items such as CPU, RAM, Disk Space, Network are grouped into a units of COMPUTING POWER, wheres different types of application and requirements can find their matchings by selecting the number of Cloud Nodes. Currently, we support 1 node to 50 nodes, for clouds with more than 50 nodes, please refer to Private Cloud Solutions.
Application Types & Fields
Web Server
Mail Server
Storage Server
Proxy Server
Monitoring
Content Server
Collaboration
Communication Server
Finance
Test & Implementation
Quote for Virtualization
Related Information
What is Cloud Computing
Benefits
Supported OS and Software
Scability
High Availability
High Reliability
100% Uptime Logic
Public Cloud
Private Cloud
Cloud CDN
Cloud Load Balancing
Software & Applications
How to choose my cloud?
Who are using Cloud Solutions
eBusiness Companies
Worldwide Corporates
Financial Firms
Government Units
Small & Medium Enterprises
Schools
Non-Profit Organizations
Wholesalers
Retailers
Personal & Freelancers