IT Solutions / Virtualization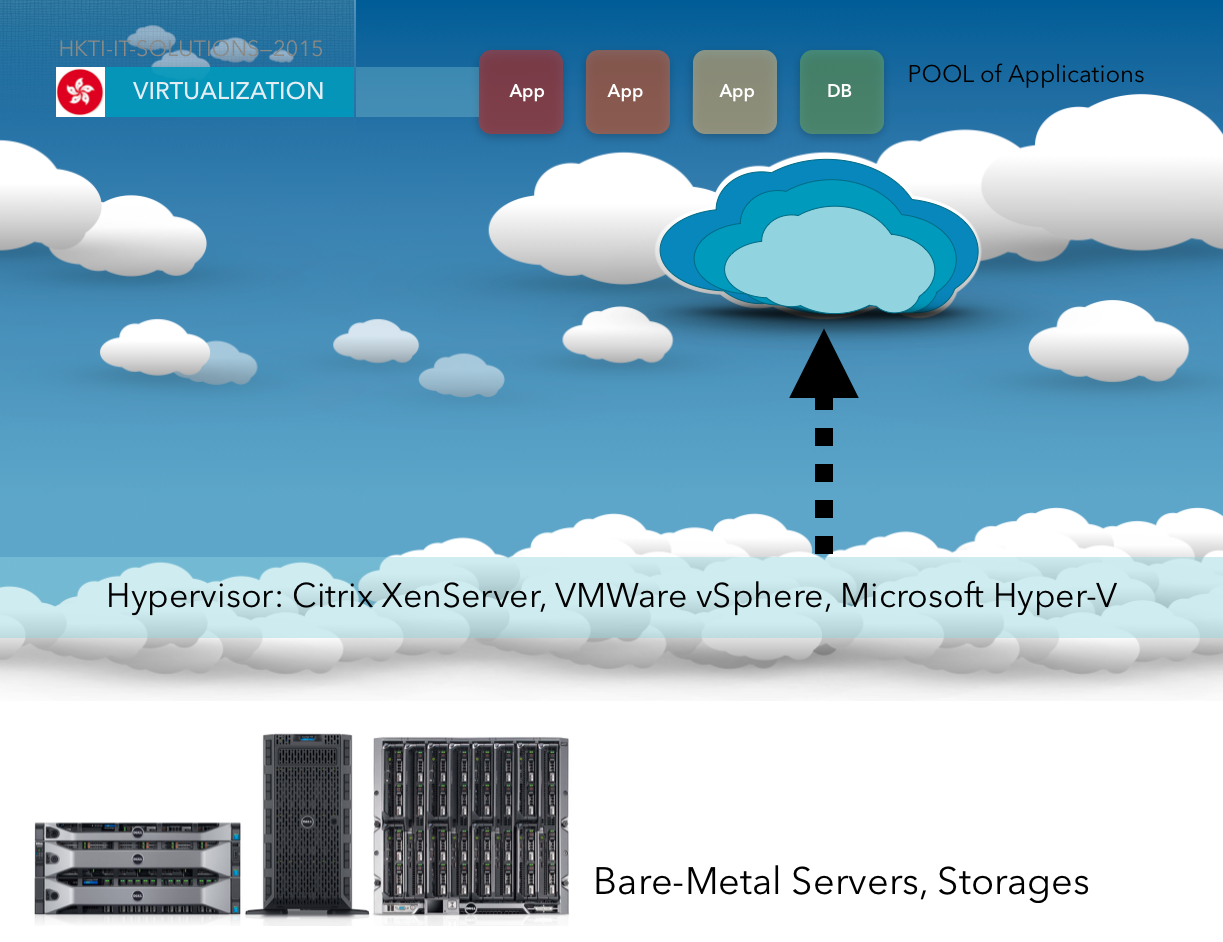 Virtualization
There are many reasons for business applications to migrate from hardware based environment to virtualized environment:


Compatibility: Old hardware can no longer support the growing need of applications previously developed. To re-develop the application costs a lot and the same problem will happen again years later when business develops.
Cost: Start business in virtualized environment with less resources configured means lower cost for start-up companies or during application development phase. You only need to pay what is used.
Data Security: Special techniques can be adopted to backup data and system in hourly, daily, weekly, monthly manner, that a failed system can be easily fallback to its previous running state with minimum data lost. Dual system (Redundancy) with real-time data synchronization or shared storage also enables you with high availability.
Hong Kong Data Center Abstract
Telecom Class high quality environment and equipment, 10 / 100M / 1000Mbps dedicated / shared access, 24 x 7 Real time server status and traffic monitoring,24 x 7 Network Monitoring,Reliable Power Supply : Redundant AC Supply + UPS + Diesel Generator,Standard rack system, 24 x 7 Network Administration and Technical Support,Detail MRTG Traffic Statistical Report Value Added Service,Network Security Service,SSL Encryption Service,Firewall Management, Client Side Network Performance Monitoring Service,Network Accelerating Service (Load Balancing / Mirroring),Off-site Backup, Server and Network Traffic Monitoring Service,Content Publishing and Acceleration Service,Content Distribution Service,Network Accelerating Service, End-user Internet Access,State of the Art Internet Data Center (IDC) Solution:HKTI had established its Internet Data Centers (IDC). HKTI IDC is backed up by high-speed backbone, software and hardware integration and provides non-stop, flexible and scalable data transmission, data storage and backup services. The high efficient IDC central management helps enterprise customers to save their network operation cost. Conformed to international standard, Redundant power supplier and air-conditioned environment,High loading power supply design,Uninterruptible Power Supply,Diesel Generator, Dual independent power supply,FM200 Fire Suppression System,Fireproof & anti-static materials,Remote surveillance,Advanced Control Panel monitoring and controlling facilities like electricity, air conditioning, fire alert, door access, etc